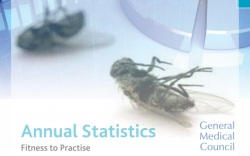 The Inquisition known for the time being as the General Medical Council is under fire. Its fitness to practice procedures, which for doctors caught on the sharp end of one of Stilton's prongs feel much like being popped into a beaker of dilute sulphuric acid with a rack of Bunsen burners arrayed underneath, have come under scrutiny because of an apparently high mortality attached to being left to simmer in warm sulphuric acid. Figures available online suggest that there were at least 92 deaths between 2004 and 2012 in doctors under investigation. The denominator – which Dr No suggests should be the number of GMC cases referred to panel investigations – stands somewhere in the region of 2300 (see footnote), giving an approximate average annual mortality rate of 4%. Working age (25-64) mortality in the same period was around 200 per 100,000, or 0.2%. Something is clearly going on. If we apply some crude 'observed over expected' numerology to these figures, we get a (very) crude mortality ratio, on the normal 100 base, of around 2000: that is, where we would expect 100 deaths, we find 2000.
This figure is crude – that is, not adjusted for age or sex or any other factor of known or possible relevance – occupation springs to mind, as health care professionals are known to be prone to suicide. Nor does it tell us about confounding or chicken and egg causality – maybe the doctor was under FTP investigation because of irregularities caused by a life threatening, perhaps mental, illness. But, even with due allowance for those lack of refinements, the figure is eye-wateringly large. Something is clearly going on. Doctors under FTP investigation really do appear to drop like flies.
Yet the extraordinary thing is that we know next to nothing about these deaths. The GMC does record deaths in doctors undergoing FTP investigation, but until recently this has been largely as an 'administrative event' that triggers closing of the file. No doubt the Lord-of-the-Flies elements in society will claim good riddance – them quacks must have been bad'uns, otherwise they would never have got caught up in Stilton's machinery. But that is itself an extraordinarily harsh judgement. No doubt some of the doctors will turn out to be bad'uns, but there will also be the innocent who – had they survived – would have been cleared, and those suffering from mental illness which, while it may even have contributed to their death as to their falling foul of the GMC, is hardly cause to turn a blind eye to their fate. Indeed, some have gone so far as to say deaths while under FTP investigation should be 'never events' for all health care workers, a laudable aspiration (Dr No is not being tongue in cheek), but one which perhaps should be tempered with an acceptance that some natural and causally unrelated deaths are inevitable.
What is needed is an in-depth enquiry – the proper terminology is a confidential enquiry, which has wide ranging powers to investigate – into these deaths. Dr No is not normally one to support causes or urge action – he sees his role more as commentator, with readers free to draw their own conclusions, and act as they see fit – but on this matter of 2000 deaths where 100 are expected, he is going to make an exception and suggest readers may wish to review and consider signing this e-petition, which calls for just such an enquiry.
Footnote: The GMC's own annual figures for 2005 to 2011 are available here, here and here. Averaging those annual figures and multiplying by eight (to cover the eight years 2004-2012) gives an estimated 2337 cases referred to FTP investigation over that period.