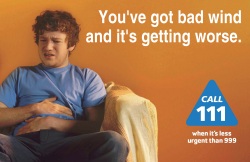 Now that Call 111 has gone live, Dr No has sent a team of his crack undercover reporters into 111 call centres to discover how the new service is working.
The following is a transcript of a secret recording made at a call centre located somewhere in the South of England.
A 111 call centre, with two operatives with headsets on at desks with computer screens. Op-A is taking a call from a patient; Op-B is taking a break; his screen has flashing betting odds on it. We overhear the conversations…
Op-B: I didn't quite catch that. Did you say the 1:11 at Aintree?
Op-A: That's right caller, 111 Braintree here, what's troubling you today?
Op-B: Number 2, Hot To Trot, followed by Rimfire.