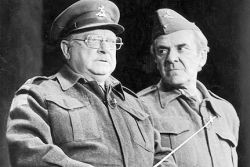 The government continues to push its quaint vision of local GPs doing local healthcare commissioning. Many who know rather more about the National Health Service than the government do have pointed out this is a non-starter. But let us imagine for a moment what might happen if all GPs did take on commissioning. It might go something like this:
Scene: Walmington-on-Sea Church Hall. Platoon drawn up, Mainwaring and Wilson face them.
MAINWARING: Right, Men. I've a very important announcement to make. (inflates chest) We've orders from the ministry to fix the NHS. Its going to be the next big thing. (inflates chest further, taps swagger stick on flipchart for emphasis) Its called Home Guard Commissioning. We're going to show these Johnny-come-lately American chaps how it's done.