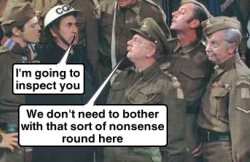 Late April 2016. As hospital consultants and staff doctors across England prepare for the first ever full walk out by junior doctors, similar preparations take place at Walmington-on-Sea…
Scene: The local District General Hospital Casualty Department. Mainwaring and his platoon stand facing each other. All are wearing baggy theatre greens with stethoscopes draped in the modern fashion round their necks, except Wilson who is wearing a Prince of Wales check suit, with a large neurologist's hat-pin in his lapel. Frazer has on an ENT surgeon's head mirror, flipped to the up position, and the light reflects off it like a heliograph as he darts glances here and there. Mainwaring has a vintage WWII flare pistol in a holster on a belt, strictly for emergency use only.
MAINWARING: Hurry up and get changed, Wilson.