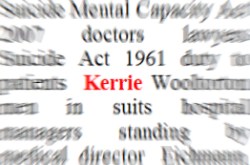 Kerrie Wooltorton is dead. But she isn't going to go away. Her sad suicide, and the aiding and abetting of that suicide by her doctors, have opened a door to a cesspit of legal incompetence and medical Eichmannship.
For those who have been frying fish for the last few days, KW was a woman with both depression and emotionally unstable personality disorder who wanted to kill herself. That's what she said, anyway.
Her method was self-poisoning by anti-freeze. She had several goes, all of which failed. At her last attempt, she got the dose right. She did not wish to die alone and in pain. So she presented to her local casualty, asking for pain relief and comfort, but no life-saving treatment. She said this verbally, and in her so-called "living will":
14/09/2007 To whom this may concern
If I come into hospital regarding an overdose or any attempt of my life, I would like for NO life saving treatment to be given. I would appreciate it if you could continue to give medicines to help relieve my discomfort, painkillers, oxygen etc. I would hope these wishes would be carried out without loads of questioning.
Please be assured that I am 100% aware of the consequences of this and the probable outcome of drinking antifreeze, eg death in 95-99% of cases and if I survive then kidney failure, I understand and accept them and will take 100% responsibility for this decision.
I am aware that you may think that because I called the ambulance I therefore want treatment, THIS IS NOT THE CASE! I do however want to be comfortable as nobody wants to die alone and scared and without going into details there are loads of reasons I do not want to die at home which I realise you will not understand and I apologise for this.
Please understand that I definitely don't want any form of ventilation, resuscitation or dialysis. These are my wishes please respect and carry them out.
Yours sincerely
Kerrie Wooltorton
This placed her doctors in a bit of a spot. On the one hand, the Suicide Act 1961 makes it an offence to aid and abet a suicide, while on the other hand the Mental Capacity Act 2005 requires a doctor to respect the will of a capacitous individual.
Good doctors know better than to let any bull, let alone a legal bull, toss them in the air. They know there will be sharp horns waiting for them when they land.
Good doctors belong to a profession with a long and noble moral tradition, and that tradition provides a moral compass that enables a doctor to steer with confidence through the foggiest of medico-legal minefields.
But this didn't happen in Norwich.
Instead, it appears the doctors in Norwich waved their hands in the air and bleated "Help we don't know what to do!". They shirked their duty – which includes making decisions in difficult circumstances – and passed the buck. There is a name for this process: it is called the collusion of anonymity.
This is very sinister. For not only did these doctors pass the buck, they also in so doing agreed to subjugate their conscience to a third party.
Unfortunately, the third party was a bunch of legal contortionists and that collection of clowns known as the hospital managers, including, of course, the medical director.
These clowns and contortionists, at their remove from the bedside, came to the view that the MCA, and so KW's living will, held sway. The doctors at the bedside were ordered to stand back, and allow KW to die. We do not know what care and comfort, if any, they did provide to this poor woman.
The Wooltorton family have decided to sue the hospital. That is a courageous – and right – thing to do.
The reason it is right as well as courageous is that the government have slid a toxic Act under the back door of our legal code – an Act which when misused, as it has been, and will continue to be, can be used to justify the most sinister of actions. It is an Act that provides a Licence to Kill. It has to go. The Wooltortons, by taking the case to the Courts, will throw light on the need to remove this dangerous law.
The doctors at the bedside, the ones who stood back, will no doubt adopt the Nazi defence of saying they were "just following orders". This will not wash. Not only did they place themselves in the subservient position of asking for and then following orders when they had no need to do so, they also chose to follow bad orders. As Nuremberg and other Courts have shown, "just following orders" is no defence when evil is abroad.
Dr No is in no way a rabid pro-life nutter. He aims to strike a balanced view. At medical school, he was taught never to kill, but also never to strive officiously to keep alive, and that has always served him well in times of uncertainty. He knows his duty is to strive to cure sometimes, to relieve often, and to comfort always.
KW was a woman with a long history of mental health problems. She presented as an emergency. She may or may not have had capacity, but time was of the essence, and deciding capacity in such circumstances requires a fuller picture of the patient and her illness, and how it affected her ability to weigh the facts so as to decide, than the circumstances allowed. The right course was for the doctors to treat first, and ask the questions afterwards.
Dr No has written elsewhere of the importance of autonomy, and the right to self-determination, and what should happen when these principles clash with other important principles, such as the right to life, and the doctor's duty to preserve life.
He accepts, as he does with abortion, that there are times when an action that appears to contradict a doctor's duty might in fact be in an individual's best interests. But he is sure these matters should be deliberated in the calm of a consulting room, not the maelstrom of a casualty department.
It is in such difficult circumstances as these that the doctor turns not to the law, but to the Hippocratic tradition that has guided doctors throughout the centuries. It is there, and not in the law, that he will find the oxygen of morality that will sustain him throughout even the most testing of moral choices.