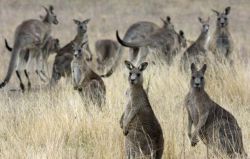 Further evidence has emerged that there are kangaroos loose in the General Medical Council's top paddock.
Doctors on the GMC's Register have been pestered over the last few months to confirm their wish to receive a licence when the new licensing system for doctors goes live later this month.
It seemed a bit pointless – why did Dr No pay his last Annual Retention Fee if he did not want a Licence? Nonetheless, he did confirm that, No, it was not a mistake that he had paid his Fee, and Yes, he would like a frigging Licence: that's why he paid the frigging Fee.
Meanwhile, the GMC has been making a Big Noise about how successful their Licensing Campaign has been. The latest edition of GMCtoady, their six times a year propaganda rag, got all self-congratulatory with a racy news item headlined "93% and rising", while only last week, GMC Chair Professor Peter Rubicon assured us that progress had been made, rivers had been crossed, and that the Campaign had "exceeded all expectations".
Quite why the exercise needed to be done in the first place is beyond Dr No; why it needed a Campaign is beyond understanding, while how it managed to create expectations, be they exceeded or otherwise is, quite simply beyond the Pale. It might even be beyond the Rubicon.
Putting aside matters of time and money wasted, there are three important things to note about this non-Campaign. The first is that 13,500 – over 6% of all registered doctors currently on the register – responded by saying they did not require a licence. And so, at a stroke: 6% of the UK medical workforce has been wiped out; and so there are 13,500 less doctors to work in the NHS. These numbers are not trivial.
Now, it may be that these doctors reflect natural wastage through age. But Dr No suspects that a number, possibly a great number, of those 13,500 doctors have had enough – of the GMC, and the way things are going, and have decided enough is enough; and to the extent that is the case, they represent the first cull – there are many more to come – caused by the new regulatory system for doctors.
The second – and the first to show the kangaroos have been out to play – is the quite remarkable revelation by the GMC last week that the 3% of doctors – over 6600 doctors – who did not contact the GMC will be given a licence anyway. Which rather begs the question: why did the rest of us have to tell the GMC we wanted a licence, given they would have given us one anyway? A pointless and futile exercise that nonetheless "exceeded all expectations"…
The third – and this is the one that makes Dr No wonder whether the kangas have got little roos loose in their top paddocks – is that the default position for non-responders – that is, those who not have responded, who are out of contact, who are off the radar, and possibly even, for all we know, living on the dark side of the moon, is – wait for it – you can have a licence! Bonkers – or what?