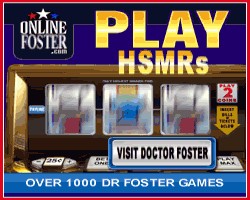 The Hospital Manager's Association
Top Secret – Eyes Only
The Hospital Manager's Guide to Massaging HSMRs
Members will be aggrieved to hear that the Doctor Foster Intelligence Unit and its lottery hospital standardised mortality ratios (HSMRs) are here to stay, despite several recent papers showing the methodology to be unsound.
Members will appreciate that they supply the raw data used by Dr Foster, thus providing opportunities to 'cook' the figures before they are passed to Dr Foster. The Association does not condone directly tampering with the data; however, faced with the intractable use of flawed statistics, the Association does believe members are entitled to 'game' the system to their advantage.
Members will further recall that the HSMR is the ratio of observed deaths to expected deaths, conventionally multiplied by 100. The secret of successful gaming is not only to reduce observed deaths, but also to arrange matters so as to increase the number of expected deaths. This can simply be achieved by weighting matters in such a way as to favour adjustment factors – such as age and co-morbidities – that increase expected mortality.
The Association has researched options for members, and recommends any or all of the following:
1. Get rid of dying patients. Nothing boosts HSMRs more than dead patients – so dump them before they die. It doesn't matter where you dump them – just get them off the ward before they die. Try tapping into the nostalgia for dying at home – start a campaign through your local paper.
2. Shift dying patients that can't be dumped into 'unseen groups'. Remember, Dr Foster only includes only 56 diagnostic groups that account for 80% of in-patient deaths. If a patient's diagnostic group falls outside the 56 that are included, the death won't be 'seen' by Dr Foster.
3. Rack up those co-morbidities. HSMRs are heavily adjusted for case-mix (concurrent illnesses), so the more co-morbidities the better. Consider taking on extra clerical staff to review case notes for missed co-morbidities.
4. Admit as many old but not expected to die patients as possible – so called 'Golden Oldies'. It may make the wards smell a bit more than usual, but it does wonders for lowering HSMRs.
5. Avoid elective admissions like the plague. Maintain bed occupancy as 110% so as to force cancellation of elective admissions. Discretely facilitate bed-blocking with old (but not moribund) patients. Liase with local Social Services to ensure that discharge arrangements are slow and complicated.
6. Dr Foster now adjusts for palliative care. Open a large palliative care unit and admit as many dying patients as possible to it. A large high profile palliative care unit has the added bonus of making your hospital appear trendy and caring.
Finally, always bear in mind the most enthusiastic gaming can fail, and a high HSMR result. In such circumstances, the only option is to discredit the Dr Foster methodology. Have ready at all times a briefing pack explaining why Dr Foster HSMRs are not to be trusted. Useful background papers include:
Lilford R, Pronovost P. Using hospital mortality rates to judge hospital performance: a bad idea that just won't go away. BMJ 2010;340:c2016. [link]
Black N. Assessing the quality of hospitals: hospital standardised mortality ratios should be abandoned. BMJ 2010;340:c2066. [link]
Mohammed MA, Deeks JJ, Girling A, Rudge G, Carmalt M, Stevens AJ, et al. Evidence of methodological bias in hospital standardised mortality ratios: retrospective database study of English hospitals. BMJ 2009;338:b780. [link]