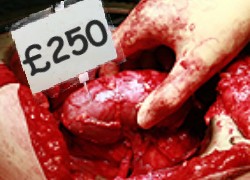 Jim Naughtie, interrupter-in-chief on Radio 4's Today program, this morning scaled new heights of discourse interruptus, peppering a hapless Professor Dame Marilyn Strathern with tiresome ejaculations of febrile nuisance. One might presume that the Dame – who was until last year Mistress of Girton College, Cambridge – might be an expert in putting naughty boys in their place, but she was no match for Naughtie Jim.
The Dame was on air to talk about 'incentivizing' organ donors. The deal is that altruistic donation fails to produce enough organs, and that the time has come to consider what carrots might produce more kidneys. Some suggestions are out of sublime by way of ridiculous – souvenir T-shirts and mugs for example – but the bottom line is that this is about handing over lolly in return for the goods – or what the Dame coyly referred to as 'bodily material'.
Showing herself to be a wily old bird, the Dame introduced the notion that the bodily material market was already a 'mixed economy'. Behind those altruistic organ donations, she assured us, commercial wheels turn to deliver the goods. Women, she added, get free or reduced cost IVF in return for donating eggs. Perhaps, she hinted, it is time to expand the mixed economy. Perhaps, just perhaps, it is time to launch a Frankenstein's Market. But Frankenstein's Markets are not the way to go.
Putting a price on altruism cheapens altruism – by putting a price on that which is priceless – and so can, as the altruistic shy away from sordid cash, cause not a rise but a fall in available organs.
And that is just for starters. Pricing 'bodily material' is discriminatory – the poor and the dispossessed will find themselves placed in a market the wealthy can float above. Some, less scrupulous than others, will 'forget' their awkward medical past, and present 'material' for sale that is at best compromised, at worst a lethal time-bomb. And all the while, because there is money to be made, the sharks will gather, and snack on the profits of desperation.
On a wider canvas, commercialising altruism threatens the ebb and flow of giving and receiving for the greater good. We run the risk of knowing the price of everything – and the value of nothing.
The present shortfall in donor organs is plain for all to see. But creating yet another market – a market too far – is not the way to go. The shortfall – a few thousand a year – need not daunt us when set against the good nature of millions. Even the smallest of conversion rates would provide enough organs. All we need is a truly effective campaign that appeals not to money but to good natured altruism.