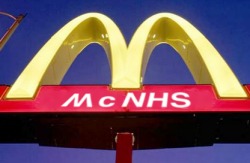 It has started, not so much with a bang, as with a whisper.
Buried yesterday in Basildon's tragically named Yellow Advertiser was an apparently run-of-the-mill story about a new hospital opening. Hidden between other shocking stories – 'Body found in cemetery' ('man pronounced dead') and 'Bikers hit the road' (luckily no one was hurt) – 'Community hospital officially opens' told a gentle tale of local gardening legend Ray Stephens unveiling a plaque to commemorate the opening of Braintree's new state-of-the-art Community Hospital.
What the Yellow Advertiser 'forgot' to mention was that Braintree Community Hospital is unlike any other hospital in the United Kingdom. It is the first of its kind: an NHS hospital run by a private company. Hidden behind a paywall (free extract available here), the HSJ (and, it appears for now, pretty much only the HSJ) has the real story:
"A primary care trust has said it is the first in the country to appoint a private company to run a community hospital. NHS Mid Essex opened Braintree Community Hospital on Monday. Services including minor surgery, physiotherapy and a rapid assessment unit are run by Braintree Clinical Services, owned by management development business Arkanum. The company appointed Interhealth Canada as provider of elective surgery and outpatient care, replacing Ramsay Health Care. The PCT said the contract will run until 2015 with options to extend to 2017. Other contractors appointed include Prime Diagnostics for endoscopy, Specialist Medical Imaging for X-rays and ultrasound and NHS body Central Essex Community Services for inpatient beds, rehabilitation and speech and occupational therapy."
NHS branded hospital, privately provided. Dr No does not have an MBA, but if he did, he strongly suspects he would recognise this business arrangement as a franchise.
Clever, really: you don't commit electoral suicide, by selling off the NHS – instead, you just sell the brand…