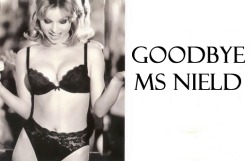 The libel wars are hotting up. Rodial, purveyors of High Class Snake Oils to the lunching classes, have fired the first libel shots across the bows of a Ms Dalia Nield FRCS (Ed), for daring to question Rodial's claims that their revolutionary 'Boob Job' gel 'plumps up the bust' – by up to 8.4% in a couple of months – if you believe the spiel.
A number of commentators, including Dr Ben Goldacre of Bad Science, would have us believe that this battle is about science, and science alone. There is hot talk of transparency, replication, and open discussion; and of the crassness of using libel law to stifle scientific debate. All this is without doubt true, but the smoke generated in the heat of indignation has partially obscured a somewhat unfortunate fact. Ms Dalia Nield FRCS (Ed) is a Plastic, Reconstructive and Aesthetic (Cosmetic) Surgeon, who numbers amongst her procedures breast augmentation.
Dr No has every confidence that Ms Nield is beyond reproach, and that the doubt she raises about boob jobs in bottles is justified – Rodial's 'key ingredient clinicals' hardly inspire confidence, and the company has yet to release persuasive clinical data. But it is unfortunate that Ms Nield's professional calling places her in competition with Rodial. Rodial 'upsizes without incisions'; Ms Nield, on the other hand, 'upsizes via incisions'. Rodial and Ms Nield are direct competitors, each offering alternative – and very different – routes to the same goal.
However honourable Ms Nield may be in her declarations of scientific doubt, there will always be a scurrilous few who – given Ms Nield's inescapable conflict of interest – will read a less pure intent into her remarks, and so shift the debate from a scientific plane to the commercial realm – and into the lap of the libel lawyers.
The answer, it seems to Dr No, is very simple. Spartacus. For every Ms Nield, there will be a thousand doctors happy to point out the thinness of the science behind Rodial's firming gel…
…and if a thousand – or even just ten – doctors did just that, then where would the libel bullies, chancers and tourists direct their ire?