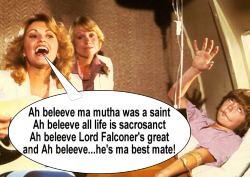 It has been a bad week for legal homicide. McMargo, Scottish champion of assisted dying, saw her End of Life Assistance Bill expire as eighty-five to sixteen Holyrood MSPs voted on Wednesday to give the proposals a fatal injection. The day before saw the launch of the own-goal Commission on Assisted Dying – an 'independent commission' bankrolled by the well known pro-death hat-stand Gaga Pratchett, set up by Dignity in Dying, and headed up as it is by the well known 'make it Zurich for me' proponent, Lord Falconer, whose selection of 'independent commissioners' is notably slewed towards fellow flight attendants, plug pullers and pillow snuffers. If this panel achieves true independence, so too will the Vatican's Commission on God: Does He Really Exist?…
What McMargo and The Lord Flight Attendant are about, although they don't put it in such terms, is liberalising the law on homicide. Suicide is properly no longer a criminal offence – there was nothing to be gained and much harm to be done by criminalising the act – but both homicide (the killing of one human being by another) and assisting suicide (in effect a form of partial homicide) remain, apart from the obvious clear exceptions in the case of homicide, criminal acts. What McMargo and The LFA intend is to relax that law: that is, to extend the bounds of legal homicide.
The Mob, just as it does for capital punishment, tends to favour death. A poll relied upon by McMargo reported almost four out of five respondents backed the proposed relaxation in the law to allow assisted suicide. Similarly, as an example, the majority Daily Mail 'vox pop' response to both the trial and appeal of filicidal Frances Inglis praised her courage in carrying out what others have called the 'ultimate act of love'. And yet legislators and the judiciary remain to immune to the bawl of the Mob. Time and again our legislators reject change to the law; just as for Inglis, our judges rejected her appeal against conviction – she remains a murderess, even if her sentence was reduced.
Are our legislators and judges right to reject the will of the Mob? Dr No thinks they are. Put bluntly, the Mob is louder than it is intelligent or for that matter informed – a wider reading of the Inglis case suggests that Inglis was not so much killing 'with love in her heart', as extirpating her own understandable but insufficient to justify murder agony at the plight of her son. And yet, we are considering, quite literally, matters of life and death. We should be guided more by careful thought, than by the spontaneous but all too often thoughtless outpourings of the Mob – or the ill-thought out arguments of the more organised members of the pro-death lobby.
Much of the rhetoric of the pro-liberalisation lobby relies on the right to self-determination – the right of an individual of sound and settled mind to determine, without interference from the state, the time and manner of their own death. This is somewhat disingenuous, given that such self-determination, being suicide, is not illegal; and yet there is a proximal bleed of the liberal intent into related, currently criminal acts; a broadening and blurring, predicated on a notion that if suicide is not illegal, then surely a well intentioned compassionate assistant should not either considered a criminal?
In a pure, untainted world, such might even be the case. What McMargo, The LFA and all their pals – including the loud and vocal 'how dare parliament tell me when I can die' brigade – forget is that, even in a free society, there are some freedoms that must be curtailed, not with any intent to curb determined self-determination, but to protect those at the opposite end of the spectrum. The articulate will express their will, and for those in whom the will is strong enough, there will always be ways and means. Their fate need not concern us. What should concern us – in a civilised society – is the scope, in a loosened liberalised and perhaps unavoidably blurred reframing of the law on homicide, to allow, even foster, the emergence of sometimes overt, more often subtle and covert, pressures on the frail, weak and feeble to take the Warnock ticket, and end their days early, on a matter of social conscience and sensible convenience.
Let us be in no doubt. Those of sound and settled mind who wish to kill themselves are already free – whether we regret it or not – to do so under our moral and legal codes. What concerns us here is a liberalisation of the law of homicide, a blurring of boundaries, an accession of shades of grey. But, as in life and death itself, this is a matter that brooks no shades of grey. The moment we allow ourselves even the option of the assessment of lebensunwürdigen lebens, of 'life unworthy of life' in others, then we have cracked open a door to a sliding scale of harsh judgements, set on a skidpan of moral ice that, as night follows day, can only end here.
Or – to put it more formally: this, of course, is our old friend the deontological (do what is right and damn the consequences) opposed to the consequential (consequence rules) argument. It may well be deontologically proper to allow assisted suicide – but the real world consequences are just too awful.