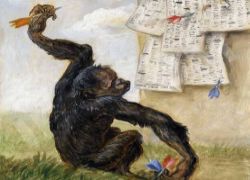 By way of a reply to WD and Dr Boots' latest comments on Dr No's last post.
In Dr No's medical student days, most medical students were WASP males. There was a lot of rugger, and high jinks, à la Daily Hail, only in those days, having studied Latin and so Roman habits, we knew how to throw up properly.
About fifteen years later, about ten years ago from now, Dr No had already noticed a shift away from WASP medical students towards more BME and more female students. He even remarked on it during a tea and biscuits break on a ward round – and a health service fattie, a psychologist of all things, all but exploded, but thankfully didn't, because all the tea and biscuits inside her would have made a terrible mess.

The reason fattie nearly exploded was because Dr No had had the temerity to suggest that the reason for the shift had nothing to do with the 'equality and diversity agenda' nor capable female BME candidates now winning the places they had always deserved, but hitherto been denied, but instead had everything to do with the fact that intelligent male WASP school leavers had already spotted that a medical career was a dead duck, sitting in the water waiting to sink. They were quite simply voting with their feet. No doubt a few, perhaps more than a few, ended up in the City, and gambled not with peoples lives, but with the nation's treasure.
Dr No knows of a recent time when there were two post FY trainees in a particular unit. Both were female, and one BME, the other white upper middle class, of the hockey stick tendency. The former wasn't the sharpest pencil in the box, and spent much of her time in the office doing facebook; the latter was good, very good – and full of how she couldn't wait to finish her current post, and get out of medicine, perhaps for a while, perhaps for ever.
What Dr No thinks is going on here is a form of natural or rather unnatural selection, a variant of his 'survival of the conformist', which we might here call survival of the second best. We might even call it a brain drain. The bright and the capable see the light, and get out, and we are left with second best. (And before medical students and junior doctors start lobbing bricks through Dr No's window, let it be clear he is talking in population terms, not about individual students, many of who are very very bright – including of course you, my dear medical student junior doctor reader.)
But – and it is a big but – at the same time we have seen an explosion in medical student places, and so graduates; and so, as a result, we now have in total more tier two candidates, medical students and junior doctors. So – at great personal risk of being turned to stone by one of the WD's potent spells – Dr No begs to differ in detail from her assessment. He doesn't think there will be a shortage of doctors per se, instead there will be a shortage of doctors willing to put up with NHS and training bullshit, for the others will vote with their feet, and of them not a few become unemployed. But of those, many will not show up as unemployed, because they will be female, and looking after their children, supported either by their partner, parents and/or child tax credit – and so wont claim JSA, and so wont be counted (literally) as unemployed.
Where Dr No does agree with the WD is that there is likely to be a shortfall of available doctors (which may appeal to a cash strapped treasury – see the 'harder noses' link in the previous post), and the shortfall will, maybe already is, being filled by imported half asleep Herr German doctors, and souped up 'practitioners' from lower down the medical ladder. Indeed we are already seeing this happen – back pain referrals from GPs go not to a medical consultant, but to souped up physios, who exercise a diagnostic role that they were never trained or intended to. As the WD observes, this will sometimes be downright dangerous.
Dr No also begs to differ from the detail of Dr Boots' assessment. For the reasons given above, Dr No doesn't think the problem is so much a failure of the selection process, as a failure, at both under and postgraduate level (over two years ago, for example, the RCPsych was already pointing out that 'just 6% of candidates sitting Paper 1 of the MRCPsych were UK graduates – a stark warning that the longstanding recruitment difficulties facing our specialty are becoming a crisis' – and that 6% isn't a typo: which means 94 out of a 100 candidates were from overseas), to attract the right people in the first place. The smart ones are bailing out. As a delightful old-school consultant of Dr No's once observed, 'one simply can't get the staff these days'. He was old enough to be on the set of Upstairs Downstairs, and was talking of domestic staff. Were he around today, he might have said the same thing about his junior medical staff.
And there we have it: a strange ironical paradoxical situation if there ever was one. An over-supply of medical graduates, some very good, some not so, and in both groups many for various reasons will truant, and of those a number will be unemployed; and at the same time there is a recruitment crisis. Truly, we live in interesting times.