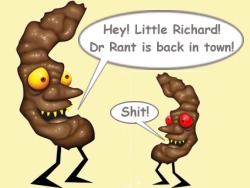 RNLI crews, expert mariners that they are, often have to deal with casualties. The Institution has recently attempted to simplify first aid for crews by introducing 'Big sick/Little sick', an approach which reduces initial assessment of a casualty to simple question. It is a clever approach, and Dr No has decided to apply it to a question that has been ruffling him lately: whether Scot Junior was entirely innocent in his fate? He did, after all, build an impressive log cabin, and dumped it where it could be read. Might he in some more significant way have been the architect not just of his cabin, but of his own fate? In the battle between Needham and Scot Junior, who of the two is the bigger Richard? Who, when we get to the bottom line, is the ten bob note, and who the two bob bit?
The matter, we may recall, started with a top ten hit of a post by Scot Junior on a doctors-only website. A keen Richard-watcher got very excited at seeing so many tom tits turn up all at once in the same place. She got onto her garden and then sent a Jimmy to the Northern Queen who promptly arranged to suspend Scot Junior. A number of medical bloggers picked up the scent of fresh William, and threw in their two bob bit. A few weeks later Scot Junior was back at work.
A Douglas of a tale, to be sure, especially for Scot Junior, and one that also revealed the coven of Queens as a bunch of Thoras. But Scot Junior quickly removed the top ten post, and apologised. The Thoras were dumped in the Brad by a referral to the GMC, who unsurprisingly found there was no case to answer. From then on, the matter should have died a natural, if awkward, death. Best to let sleeping Cherry Hoggs lie, lest the brace and bit hit the fan.
Then, in a quite remarkable development last week, one of the Queen Thoras released a bottomless pit of an article on an unsuspecting world. Published in the British Medical Journal, it too contained more than its fair share of English Lit. It sought to retell the story as if the real victim was not Scot Junior, but the Queen herself, who, she told the world, had only ever sought to fulfil her duty of care, and who had, for doing that duty, suddenly found herself in deepest four by two. Never mind that, in dumping all her English Lit on an unsuspecting world, she had once again landed Scot Junior back in the Betty Boo, and in so doing had breached the very duty of care she so archly strove to uphold.
Now, Queen Thora in her BMJ article presents the top ten post as one posted on an open forum – that is, one accessible to the public – "a post on an open forum" – but this is not in fact true, although – as is often the case when there are a lot of tom tits flying around – it did contain a partial truth. Scot Junior posted his post on a forum called 'Air your views to the media' and – surprisingly – the forum's title did in fact mean what it said. At the time Scott Junior posted, the media, possibly only approved media – Dr No has not been able to clarify this point, did have direct access to this forum. This can only mean that, unless Scot Junior was blind, thick, or off his head at the time, or possibly any combination of the three, he knew the media would be able to see what he had written, and that there was a real possibility – he may even have wanted it to happen – that the media would take his post and put it in the public domain. That is not the same thing at all as posting in a strictly doctors-only forum – but nor is it in any measure the same as a direct posting in a open, public forum. Scott Junior's tactics, it would appear, were to lay a steaming top ten post somewhere where – we may presume, but do not know – he hoped the media would pick up the scent, and run with the story.
And therein, by posting where he did, lies perhaps Scot Junior's biggest mistake. It allowed the first Queen, who read the original post, to conclude that the post was 'intended as a public statement of his views'. Over time, and with the certainty that attaches to Queen-hood, the Northern Queen reframed intent into actuality, and in her mind the post became not intended as a public statement, but an actual public statement – with all its attendant risks, in the Queen's opinion, that it might 'alarm the public'. In so doing, she neatly side-stepped the real, and still, most important issue: that of free speech; of Scot Junior's freedom to speak his mind, without fear of recrimination.
Dr No thinks we might safely leave it to the public to decide whether they are alarmed by English Lit filled posts by angry frustrated junior doctors, even if he rather suspects that it will take rather more than a pile of Brads to disturb the equanimity of the man on the Caledonian omnibus. He considers that Scot Junior may or may not have been foolish to post in a forum that might or might not give rise to public disclosure. But the fact remains – despite the where it was posted red herring dreamt up by the Queens – he had the freedom to post anything he wanted, anywhere he wanted, the only exception being the usual caveats about violence and harm. All he did, perhaps foolishly, perhaps not, was exercise that freedom.
The Queens, on the other hand, have throughout acted selfishly, patronisingly and disingenuously, with scant regard for truth, or for the well-being of junior doctors. One might even go so far as to say that in their colossal arrogance they have 'orsoned far higher than their elephants.
From which Dr No concludes that, at the very worst, Scott Junior might appear, when viewed a certain way, to be a bit of a Little Richard. In contrast, the Queens – including most recently the Queen of the North – are clearly and beyond any doubt the Biggest Richards of them all.