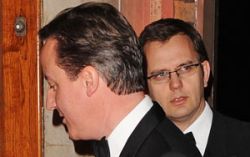 Scene: a secret bar located in the basement of Number Ten. The Prime Minister and his Director of Communications sit alone sipping lager.
dc: Coalition's not going so well.
ac: Oh my God, sir!
dc: Press hounds everywhere, sniffing at our backsides.
ac: How dreadful, sir!
dc: Police at it too.
ac: How disgusting!
dc: What we need, Couls, is a futile gesture. It'll raise the whole tone of the government.
ac: Spot on, sir!
dc: Couls, you know how it is that in government, ten men can play better than eleven.
ac: I believe that can be so, sir.
dc: Couls, we want you to be that man. We need you to resign.
ac: Right you are, sir!
dc: Pop up stairs, burn your files, hack your computer, and leave by the window.
ac: On your command, sir!
dc: Goodbye, Couls. God, I wish I could come too.
ac: Goodbye, sir – or is it au revoir?
dc: Yes, Couls, it is. But for God's sake don't tell anyone.
In honour of the great Peter Cook. Not medical, Dr No accepts, but he couldn't resist. If only the health secretary's initials had been AC instead of AL…