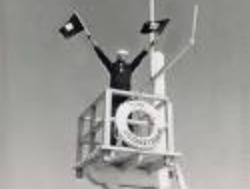 Millipede, Master of the Trivial Pursuit, continued his chase of the ineffable at PMQs earlier this week. He posed vexing questions, one after the other. Or maybe he vexed, posing questions. No one was quite sure. The PM was riled, having just been told to shut it by the speaker, and had no intention whatsoever of playing Mornington Crescent – by Stott's Fifth Ammendment rules or any other for that matter – with the Right Hon. Gent. for Doncaster North. Instead, the PM had about him the air of a man who wanted to shoot something, preferably something with horns on it, like the Hon. Gent. opposite, but tiresomely had shot his gillie, or maybe it was his wife, instead.
Meanwhile, the Hon. Gent. for Doncaster North continued to bombard the PM with the kind of questions more commonly found in the economy ranges of Christmas crackers. It was said he might ask how many fish swam in the Serpentine, or how many paperclips Mr Stephen Dorrell, MP, the once and future health secretary, had secreted in his ears. These, then, were the pressing questions the house was obliged to contemplate; and these, then, were the questions to which only Millipede knew the answers.
In amongst the trivia, there was however one answer provided by Millipede that, unusually, struck directly at one of the bigger flaws of the government's health reforms. Before the election, the Tories, it may be recalled, promised no top down reorganisation of the health service; indeed, they would cut bureaucracy. But as their Health and Social Care Bill, a 400 plus page amending bill, now subject to 200 amendments to the amendments, starts to unravel, like a ball of wool thrown from a high window, it has, far from torching the quangos, bred them and brought them forth in their multitudes. The new health service, it transpires, will have more quangos than a millipede has legs. Millipede had even counted them: 521, where once there were 163. Spookily, he even knew their names: pathfinder consortia, health and wellbeing boards, shadow commissioning groups, authorised commissioning groups, a national commissioning board, PCT clusters, SHA clusters, clinical networks and clinical senates. It was a matter of some relief he didn't explain how they all interconnected, because if he had, it would have spelt the end of any other questions for the day – unless the speaker had told Millipede to shut it too.
So there we have it – the party that wants to cut red tape is instead trussing the health service up in enough red tape to go to the moon and back. The Bill will transform the health service into an organisation of impenetrable complexity, a Somalian aircraft carrier adrift on an unknown sea.
And worse, since the Secretary of State proposes to relieve himself of his proper duties, there wont be anyone on the bridge. Instead, he will stand on a platform, waving his arms, promoting something, only no one will know what it is that he promotes. The ship meanwhile will drift out of control. American insurers will jet in and out when and where they shouldn't. The galley chefs will cook the commisioning books. Any willing engineer will heat up the engine room, only to jump ship when the going gets too hot. And all the while the SoS will stand there, semaphoring something into the ether, promoting something, anything, if only he knew what it was…