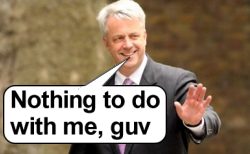 The Internet Association for Tree Hugging, Badger Loving, NHS Saving, Petition Signing and Other Worthy Causes Too Numerous To Mention, more generally known as 38 Degrees, has, at great expense, assisted a clutch of learned friends with their mortgage payments. In return, the learned friends have produced an opinion.
A few months back, Dr Death opened his coffin, exhaled a similar set of legal opinions, and retired, the silk-lined lid closing silently behind him. He has since remained as silent as a stiff on the matter.
In both cases, Dr No believes the seekers of the legal opinions have committed an error, perhaps even grave enough to put in some jeopardy the ultimate aim, that of bringing about the withdrawal of the Health and Social Care Bill. He believes 38 Degrees' error to be especially unfortunate, occurring as it does only days before the Bill's third reading.
Why, you may well ask, is Dr No against the active deployment of a legal opinion which, after all, endorses what Dr No has been saying all along? Has he taken leave of his senses? Surely he should welcome rather than decry such a development?
And yet he does not, for these two reasons. The first is that, at a time when all effort should be directed towards persuading as many people as possible to write to their MP, saying: 'do not, as you value your parliamentary seat, vote in favour of this Bill', the elaboration of clear statement – this Bill will dismantle the NHS – into the complexities of legal argument will for many, act not so much as a spur to action, as a turn-off: yet another endless legal wrangle, mired in endless (51 to be precise) pages of legal opinion, and so a diversion from the essential: the landing of letters and emails in front of MPs who will, in a week's time, determine the fate of the Bill.
The second reason is that, not only is it unnecessary to seek a legal opinion to establish the obvious, the act of so doing curiously and on the face of it paradoxically weakens the argument. By reframing a statement of the blooming obvious as a worthy opinion, we are invited to contemplate the possibility of alternative opinions. What, we might ask, would have been the outcome had the government sought an opinion? What if it has sought an opinion from the very same advisers? As many who have called in the lawyers know to their pain, all too often the only certainties, once learned friends are called in, are rising costs, longer delays and decreasing clarity.
Which are the last things we need at this stage, with only days to go before the Bill's third reading. Instead we need action: a torrent of emails and letters landing on MPs' desks, that will still be painfully fresh in their minds when the time comes next week to vote on the Bill.
Googling your MP's surname and 'parliament.uk' will almost invariably lead you to your MP's email address. Alternatively, you can search here.
Dr No has written to his MP – have you?