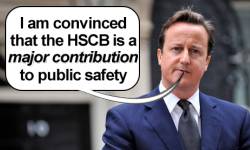 Dr No is not a hoodie; nor, so far as he knows are any of his friends, or even his friends' children. He moves in the rarefied climate of relative genteeldom that is upper middle class Britain. Most of the sharks he knows wear suits, and work in the City, or the local private hospital; and the robber barons he knows wear wellies and tweeds. Those times in the past when his medical career has taken him into the sink estates and dumping ghettoes – he recalls once being advised to 'put his doctor's bag first through the door', so that the waiting Rottweiler bit it, not him – have been brief; and despite the portent of his colleague, he conducted his practice in a spirit of Croninian naivety. He came not to judge his patients, but to treat them.
So it is with great trepidation that Dr No presumes to venture intimate observations on our broader society, let alone contemplate the day to day appreciation of the news by a hoodie. Perhaps he is even foolish so to do, but that is the privilege of the foolish blogger. So: his first observation is that the 'hoodie' is a curious partially sanitised icon of the underclass. Instead of the underclass, we now talk of hoodies, and of criminals and thugs – and so of isolated indivduals. The carbuncle on the underbelly of society is recast as a tiresome flea: a external parasite treatable by a blast of Tory flea spray, rather than a purulence at work within the body of society itself.
Dr No thinks this is bad mistake, for the underclass is still there, as it has always been. The hoodie tsunamis that have swept these last few days through our Cities are not so much, as our politicians wish us to believe, the simple expressions of individual criminality and thuggery (though such base motives do surely play a part), as the spontaneous welling up of the underclass through the widening cracks of a fractured society. To pretend otherwise is not just misguided, it is deeply foolish; for it is not individuals, or even small pockets of – as Cameron has it – of 'sick' society that need mending, but the whole of society; all society. We are all – despite Hacksaw's infamous proclamation that there is no such thing – part of society, and we are all in this together.
Which brings Dr No to his second observation: that in the last few years much of the domestic news has been dominated by two long-running stories: the MPs expenses scandal, and the collapse of our banks, and their subsequent bail out by – ahem – those very same MPs, or rather, those same discredited MPs using our money to bail out their buddies who gambled with – and lost – our money; and then – to add insult to injury – collected eye-watering allowances and bonuses in reward.
Now, Dr No appreciates that the last paragraph might be a slanted account of recent events that ignores some of the finer points. He has put it so because he suspects that hoodies are not ones to over-burden themselves with finer points. Instead, they simply see sickness and greed at the heart of government, and of the City: a pervasive culture of – as Clegg put it this morning in the other context – of 'smash and grab', that all too often goes unpunished, and on occasions is even, by way of bent rules, bail outs, and bonuses, rewarded.
So the underclass hoodies say to themselves – not unreasonably, which is not in the slightest to condone it, but to finger the inescapable logic – if MPs and bankers can 'smash and grab' and get away with it – then why can't we? It is, considered broadly, a hard argument to counter. A legal view might say that most of the MPs and most of the bankers did nothing illegal, and that might well be true; but that narrow view crumples in the face of the wider argument, for there was clear moral wrong doing. And so there is, rightly or wrongly – Dr No happily concedes there may be a few swans hiding in the duck houses – a perception of a double standard, of hypocrisy, of one rule for toffs, and another very different rule for hoodies.
This, Dr No suspects, is the Tories' blind spot, and perhaps their Achilles' heel, that may yet one day render them unelectable. They cannot see that it matters greatly how the underclass perceive the Tories; and so they are careless of appearances, and so greatly offend the underclass. That is why many of the roll call of major British riots of the last few decades – Bristol, Brixton, Toxteth, Broadwater Farm, and the Poll Tax, not to mention Wapping and the Miners' strike, all happened under a Tory watch.
It now seems that, in spite of, or perhaps because of this blind spot, the current government is determined to force through its recklessly misguided Health and Social Care Bill. And make no mistake: if this Bill is enacted, we shall before long see the coming of a two-tier, double-standard health service: one for the vocal well-to-do, funded by insurance and co-payments; and, on lower plane, a state-funded corners cut 'safety net' service for the underclass – and the net will be large meshed, torn in places, and many will fall through.
It was ironically a Tory who once had the sense to recognise that the NHS is the nearest thing we English have to a religion. If the current government persist in driving a wedge into that religion, splitting it into a two-tier service, then it wont just be the NHS divided; the country too will be deeply divided, into the haves and have-nots, an over-class and an underclass. There is a real – and deeply alarming – danger, if this foolish Bill is enacted, that the riots of recent days will come in time to be seen as the early raindrops of a furious storm that is yet to come.
In the aftermath of that storm, there will be but one certainty: the Tories will have rendered themselves permanently unelectable. Far be it from Dr No to presume, but it does seem to him that were he a Tory MP, he might wish to contemplate the consequences, before mindlessly voting for a Bill that will surely become known as the longest suicide note in political history.