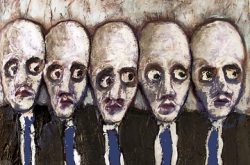 One of the baffling aspects of the Tories' plan to privatise the NHS is the persistent, mis-representation of facts that has been such a feature of their campaign. The opening case for the reforms – that UK health outcomes are amongst the poorest in Europe – rested on a bed of bent numbers, promptly shown to be misleading. More recently, we have had Mr Cameron saying the 'the whole health profession' – the whole health profession? – last time Dr No checked there were several – 'is on board', despite clear evidence that the professions, whole or otherwise, had jumped ship some time ago. In April, an overwhelming 99% of RCN Congress nurses voted no confidence in Lansley's management of the reforms. In March, a special BMA meeting noted widespread concern about the reforms, and called for the Bill to be withdrawn. More recently, an RCGP survey of 500 GPs conducted after the 'listening exercise' found only a maverick 4% strongly backed the reforms. Only last week, the BMA wrote to all MPs, warning that the Government's health reforms presented an 'unacceptably high risk to the NHS, threatening its ability to operate effectively and equitably, now and in the future'.
Startlingly, given the abundant weight of contrary evidence, only minutes before the Health and Social Care Bill continued (and successfully passed) its third reading in the Commons earlier this week, Mr Cameron produced a corker of a porker – Dr No quotes – at Prime Minister's Question Time:
"we now see the Royal College of General Practitioners, the Royal College of Physicians and the Royal College of Nursing all supporting our health reforms"
and this on the very same day that the RCGP, RCN and BMA, amongst others, had a letter in The Times (paywall – unfortunate mistake – but the text can be read here) saying:
"Our organisations believe that the Bill could still potentially destabilise the NHS as we know it… Without building in appropriate safeguards, extending choice to any qualified provider risks seriously destabilising existing, mainly NHS, providers and making it much harder to develop the integrated care patients want and need… We share a number of more detailed concerns…"
To which Dr No says: if this is evidence of the whole profession being on board, then it is a queer old ship, crewed by phantoms and ghouls.
Whether the defect of veracity is one of deficiency or deviancy is unclear. It may be that the government is surrounded by a court of sycophants, who filter and limit the dope they pass to their leader, but that seems unlikely, and if true, would itself raise questions of competence: what government wilfully misinforms itself? A more likely explanation, it seems to Dr No, is that it is an exercise in Goebblesian – repeated enough, a lie becomes fact – propaganda: an outpouring of lies muttered in the impotence of baffled – and baffling – malice.