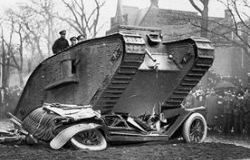 Not so long ago, Meccano Flanders got herself into mild hot water for allegedly tanking the English language, by using the verb 'to tank', as in 'If the Bank of England were really serious about helping the economy, it would be trying to tank the housing market'. Putting aside the correct but perhaps vaguely anachronistic use of the conditional subjunctive, the use of 'tank' as in 'tank the housing market' seems admirable to Dr No: a short crump of a word that perfectly conveys meaning. And so it is that Dr No too is also quite happy to talk of tanking, and so of how to tank the Bill, as in the Health and Social Care Bill; by which he means how to bring about its downfall1.
The general consensus these days seems to be that it is up to the Lords to tank the Bill. A variety of schemes and stratagems have been devised to assist the Lords in their Noble Cause, ranging from 'Adopt a Lord' programmes, apparently modelled on commendable animal welfare lines, to the submission of Stiffly Worded Letters, most recently from a group of four hundred senior doctors.
Now, the Lords, were they to have an eye for the main chance – as in not getting tanked by the coalition's proposals for Upper House reform – would do well to contemplate the ample reward and support they will gain from the British people were they to tank the Bill. But Dr No fears, indeed very much fears, that the Lords will not tank the Bill.
The coalition has already called in the cross-bench peers, no doubt for a stout talking-to, and will lean heavily on its chief stooge, Prof Field, who day by day looks and now even sounds as if his head has been blown up with a bicycle pump, to shepherd wayward peers grazing on the wrong side of the fence back into the coalition paddock. Even Dame Shirley (of the short hair), who not so long ago threatened to put a cold finger through the Bill, has gone quiet; and Dr Death appears, as is often the way with these things, to have lived up to his name.
No, Sir, the peers aren't going to tank this Bill. There may be some mileage in getting them to focus on the crucial and readily grasped importance of recovering and retaining the Secretary of State's duty to provide a comprehensive health service, but the bulk of the Bill, with more clauses in it than an ermine has hairs, will, as it did to MPs, drown the peers in a swamp of ever-deepening complexity from which there will be no escape. In time, the Bill, like a German U-Boat, will resurface downstream, unscathed, and continue its deadly mission.
There is, however, one group – and we know from surveys this group exists, and is large enough – who can tank the Bill. Dr No has said it before, and will say it again: it is easily within the grasp of rank and file general practitioners to tank this Bill. Even if they are sucked – often against their will – into commissioning groups, they can still tank the Bill, or more accurately its implementation, by not playing ball with the coalition's any willing cowboy game; and instead continue to commission from, and mostly only from, and so support, a public national health service. Some might say such action amounts to civil disobedience – and no doubt Monitor would soon be involved in anti-competition claims. But, even with relatively small numbers of dissident GPs, Monitor – or which ever branch of the NHS Gestapo is now to be charged with enforcing competition – would soon be quite overwhelmed. And the NHS privatisation project, as Meccano Flanders might say, would just as soon be tanked…
So Dr No suggests: no need to adopt a peer, and get lost in all that ermine: adopt your GP instead. Ask him or her what he or she is doing to protect the health service. Urge him or her to be a lion and not a donkey; and not play ball with silly coalition schemes that will destroy the NHS. That, Dr No suggests, is the simplest, most effective way to tank this deadly Bill.
1. OED: Draft Additions December 2005: tank, v. – intr. colloq. (orig. U.S.). To fall rapidly in estimation, value, etc.; to fail; spec. (of an economy or share price) to crash. e.g. 1987 Inc. (Nexis) Nov. 116 The new product they were working on just tanked; 2005 R. W. Campoy Case Study Anal. vii. 149 By the time he reached middle school, his grades had completely tanked.