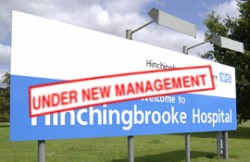 So – the Iranian Hospitalier, Mr Anti Pasta, the ex-Goldman Sachs banker who likes to make the money go a long way (viz. to off-shore tax havens), has finally bagged Hinchingbrooke. His Circle group have been given the contract to take over running the ailing hospital. Radio 4's Today programme put a curious too-small-to-matter slant on the story, perhaps as relief to too many too-big-to-fail bank/government/country stories. TweedleWebb, however, and to his credit, did manage to slip Mr Pasta the three-in-a-bed question: what happens to the money when you add commercial investors to the provider-patient marriage? Mr Pasta replied in the high tones of a man in a state of preternatural excitement – either that, or someone had recently grabbed him where they had no right to do so.
Mr Pasta, who is not to be congratulated for telling the truth, the whole truth and nothing but the truth when he likens his enterprise to John Lewis – the majority holding, all be it by a small margin, in Circle belongs to private investors, also suggested that his business model is no different to that used by general practitioners, most of whom are after all private contractors, contracted to provide NHS services. His argument was that what was sauce for the general practice goose could just as rightly be sauce for his Hinchingbrooke gander. It was all about, he told the BBC's News at Ten later, letting staff do 'what tey tink is best'.
Whatever one may tink, Mr Pasta does, on the face of it, have a point. Private enterprise – of a sort – lies, and always has, at the heart of British NHS general practice. But there is a crucial difference between the goose and the gander: primary motive. Most GPs, Dr No accepts not all, do not invest in a medical training, and set up as GPs, with the primary purpose of making money. Mr Pasta's investors – city types – are, on the other hand, only involved with one purpose, and that is to turn a profit.
Two vital differences follow. The first is the business arrangements. General practice is almost always set up on a simple partnership model – why make things complicated when simple will do? Venture capitalists, on the other hand, like to create Minoan mazes to protect their interests: OpCo-PropCo divides, SPVs, off-balance sheet assets and liabilities – and off-shore accounts. Why leave things transparent when you can leverage complication?
The second difference, as Martin Amis might have said, is that the money is always after the money. While a GP in a tight corner will usually know his or her primary duty is unassailably to his or her patient, a venture capitalist sails to a different compass. We have only to look at Southern Cross to see in what direction that compass points. And news is already abroad that – like heads-we-win-tails-you-lose-bankers – Circle investors' financial losses are already protected.
The unions have already said that Hinchingbrooke is now an 'accident waiting to happen'. Dr No believes the unions may, sadly, be right. But, just as sometimes it is necessary for a child to feel the heat of fire to learn of its danger, so he fears the NHS must experience the failure of Circle, to learn of the dangers of privatisation.