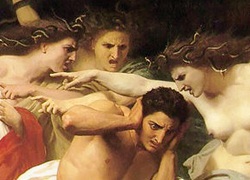 There has arisen, it seems to Dr No, a certain class of doctor, typically female and in their thirties or forties, maybe a GP, but not in full time clinical practice, perhaps instead involved in medical education in some guise or other, or perhaps not, who number, amongst their many duties, that of patrolling the internet. They patrol other, often male, members of their profession for what they consider to be misdemeanours, great and small, and when they find such misdemeanours, they feel driven to act, in the name of decency, correctness, and the final eradication of all victimisation, bullying and harassment; and for the greater good of the name of a modern caring profession. Dr No calls them The Furies, after the Roman version of the Greek Ερινύες, the avenging goddesses of wrath, who arose, fittingly enough, from drops of blood spilt at the castration of Uranus.
Now, before anyone jumps to the conclusion that Dr No is all for victimisation, bullying and harassment, and deserves any number of visits from the Furies, not to mention the eternal torment of madness, let him make it crystal clear he does not. Dr No is absolutely one hundred percent against gratuitous victimisation, bullying and harassment. But he is also for another, as it happens classical, Aristotelian tradition, that of moderation in all things. And sometimes he wonders whether The Furies have got their serpents in such a twist that they have lost sight of the virtues of moderation.
There are times, it seems, when it is just a little too easy for our Furies of today, consumed by their avenging wrath, to visit their vengeance with such fury and zeal that the bullying boot transfers to the other foot; from the foot of the alleged bully to that of the alleged victim. The soft stockinged grace of moderation has become the jack-boot of excess, and of oppression. And that is the point at which Dr No stops calling them The Furies, and gives them a more fitting modern name: The Bullies.