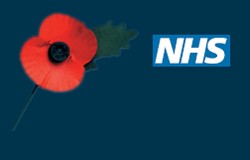 Dr No observes Remembrance. Last Friday, the day before yesterday, at the eleventh hour on the eleventh day of the eleventh month, and this time as it happens of the eleventh year of the century, he fell silent and still for two minutes, and remembered those who have given their lives for the freedom we enjoy today. It is a moment of solemn awe for the sacrifice made, and of great humility in the face of such selflessness.
Remembrance was made that bit more poignant this year by the breaking news that Circle Health had signed the long foretold contract to run Hinchingbrooke Hospital. This contract is a clear challenge to the authority, competence and perhaps most of all to the values of the NHS; a challenge which, if not seen off, will in short order threaten the very life of the NHS.
For let us not forget: the NHS, with its high and burning ideals, was born during and of the Second World War. Those that fought in that war fought not just to annihilate the monstrous tyranny of Nazidom, but also to give way to a new order, the seeds of which were sown in the First World War, and in the years that followed, in which healthcare, based on need not ability to pay, would be available to all. The NHS is, as Dr No has said many times before, one of the crowning and defining achievements of post-war Britain.
Today, the NHS is under ferocious attack, in ways that it has never been before. There are those amongst us who openly decry it, and seeks its destruction, and replacement, not with a comprehensive national health service, but with a ad hoc patchwork of private providers funded not out of taxation, but from a rude assembly of commercial interests. These measures, if implemented, even if only in part, will in time destroy the NHS, and all that it stands for.
And so it is that Dr No feels the queasy irony that Remembrance Day this year was stained by the news that the first national health service general hospital is to be run by the private sector. For, to the extent that the NHS was born of the sacrifice of those who fought in the Second World War, any move that threatens to destroy the body and values of the NHS is, in its way, an affront to those who fought and died in that war.
By further irony, the house colour of Circle is red. We shall soon see that red cast on the NHS blue of Hinchingbrooke. Let us hope that in the years to come that Circle red does not bleed to become the red of a poppy, a red poppy of remembrance for the NHS we have lost.