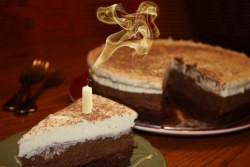 Maxamillion Pemberton, the sugar in the petrol of the Torygraph's accelerated pro-NHS reform package, has written an excellent summary of why the NHS is a jewel in today's British crown. Predictably, the Rancid Right have started to pour the oil of scorn on Maxamillion's article. One of the more able early commenters – many others are more lurid than lucid – takes phrases from the article, and puts the record admirably straight:
"'It might be that none of this concerns you…' It doesn't. '…or you may be horrified…' I'm not. 'Whatever your political leanings…' Free market capitalism. 'or health status…' Perfectly healthy, thank you. 'or experiences of the NHS,' My experience(s) with the NHS (sadly) lead me to believe it was a diabolical 3rd rate service I wouldn't wish on a dog. 'it is YOUR health service…' No it's not…" To which Dr No can only riposte: well – that is all right then, isn't it.
The Rancid 'I'm all right Jack' Right's arguments against the NHS are all flawed. Neither the barbarians at the gate (immigrants and health tourists) nor the grey tsunami (hordes of bearded toothless Amises hoovering up a growing and ever more crippling share of GDP) arguments hold water, both being instead the products of hot and fevered imaginations. Of course the NHS isn't perfect – no health service can ever be – but Tory allegations of disgracefully poor outcomes have been shown to owe more to hot and fevered Downing Street imaginations than any cool assessment of the facts. Even the accusations of gross waste and inefficiency turn out, when the proper comparisons are made, to be built on foundations of flammable straw. The facts are that, even with its faults, the NHS remains an outstanding achievement: an efficient, comprehensive and fair national health service that has both stood the test of time, and shown itself capable of growing with the times.
But just as you cant teach a mule calculus, so the Rancid Right will not hear a word in favour of the NHS. The NHS doesn't concern them; it's not their health service – they just don't want anything to do with it. The divide is so severe that never the twain shall meet.
So Dr No has come to a simple solution. Those who know the NHS is crap, and can only get worse, can, at any age in their adult life, elect to opt out of the NHS. The opt out is absolute and irrevocable: there is no entitlement whatsoever to NHS services in any shape or form, and the opt out is permanent: it can not be reversed, whatever the future health, or ill-health, of those who elect to opt out. In return, the opter-out will be given Health Tax Credits, and can use those – if they so wish – to purchase private health insurance. At a stoke, they can be shot of the ghastly NHS, its miserable third rate service, and its diabolical outcomes.
Naturally, one hopes these NHS-free individuals will remain fit and well, and thrive and prosper into old age. One hopes they never flounder in the exclusions to their cover, nor need dialysis nor intensive care, nor – Heaven forbid – extended mental health care. One fervently hopes they never hear that dread phrase 'pre-existing condition'. But if any such calamity befall them, crueller hearts may silently be tempted to whisper, in an distant echo of our Continental colleagues – whose health services the Rancid Right so often espouse – 'let them eat cake'.