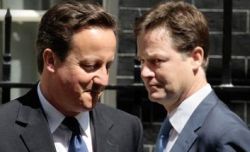 Broken Arrow is today staggering around, two daggers in his back. Earlier this week, Downing Street let it be known that there was a view that he should be 'taken out and shot'; today, the editor of ConservativeHome has let it be known that three cabinet ministers want pretty much the same thing. That's right: within the space of a few days, both Downing street and a bevy of cabinet ministers have let it be known: Lansley, and with him his blasted bill, must go. Other Tories, including Dodders, have been twiddling knives, but Dodders is a gentle man, and one suspects a stab in the back from him would be more Private Godfrey bear-hug than Corporal Jones bayonet.
Hacksaw got away with smashing the miners because there was sentiment in the country that their militant union ways were wrong. But no such anti-doctor, let alone anti-NHS sentiment exists: indeed quite the reverse. Doctors regularly top the poll as the most trusted profession, and the NHS remains the opium of the people. There may be – there always will be – opposition to these sentiments in some quarters, but there is no doubt that the great majority hold the NHS, and those who serve in it, as a much loved and valued core at the heart of our lives.
For a political party to embark, as the Tories did, without mandate or sizable Commons majority, on a path that put the iron fist of privatisation inside a velvet glove of choice, adorned with a glittering ring of clinical commissioning, displayed an alarming – these people are our government, for Heaven's sake – degree of political naivety. From Day One, it has been crystal clear to Dr No that if the bill was enacted, not only would it destroy the NHS as a comprehensive national health service, it would, inevitably, as scandals like Southern Cross, Winterbourne View and the PIP implant fiasco became everyday occurrences, destroy any Tory hopes of electoral victory, not just at the next election, but for a generation. Labour in power for a generation, without effective opposition: a grim prospect indeed. For, whatever one may think of our two main parties, there is no doubt that either in power without opposition is a bus ticket to Hell.
Dr No has said before, and continues to say, there are two groups who can halt the reckless folly that is the bill. The first is GPs: if they won't play ball, the bill wont happen. The Tory plan to let private commissioning in through the back door will be foiled, and even Dr No doesn't think the Tories are stupid enough to turn round and welcome – and be seen to welcome – the vultures in through the front door. If the GPs say no, the bill won't happen; and Dr Clare Gerada has been both bold and brave in moving her colleagues, most of whom want the bill withdrawn, in this direction.
The other group is of course Tory politicians. For many long dark months they have been blind to the dire threat the bill poses to their political future. Now, at last, there are signs that, both in Downing Street and in the cabinet, some have at last woken up to the grave danger staring them in the face. Broken Arrow is staggering around, two cold blades of steel lodged in his back. All that is needed now is for the third man to step forward, and insert the third, final and fatal last blade.