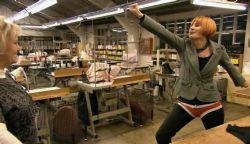 The Retail Raptor is developing a social conscience. Hot on the heels of her project to put the High back into High Street, she has moved on to save Britain's dying textile industry. Following the trend set by Hacksaw's there is 'no such thing as society', which taken to its logical conclusion means there is no such thing as Britain, and the rise of globalisation, Britain's textile industry has, like many others, gone west by going east. Here at home, the looms lie still, the sewing machines silent, the thread of manufacture first snagged, then cut short. The grim jaws of benefit dependency have bitten across generations; the darkness of despondency and despair lies thickly in the air. This is the kind of blight up with which the Raptor will not put.
Her latest series, Mary's Bottom Line, was compulsive viewing for Dr No, combining as it did an opportunity for covert frilly surveillance with tear-jerking, cockle-warming can-do social programming. It was, in short, the sort of viewing for which it is advisable to lay in a large stock of Kleenex. Even Mary wept, revealing that underneath the raptor suit, she is no reptile.
The reason Dr No mentions Mary's Bottom Line is that he believes the Health and Social Care Act will do to the NHS what Hacksaw's 'no such thing as society' and globalisation did to industry. As the healthcare focus shifts from service and patient care to profit and the bottom line, we can expect to see ever more disruption, ever more out-sourcing. BUPA will offer two hips for the price of one. Smart commissioners will ask: why get hernias repaired on the NHS when you can get them done for half the price in the Ukraine? Who, given the austerity, can argue with that?
Well, Dr No can. In the short term money may be saved, but it will be at a greater cost. As NHS work ebbs away, so too will the fabric and spirit of the national health service. Hospitals will be closed, and wards lie empty, chilling echoes of our once great textile industry. Our national pride and sense of community in our health service will be eroded, and then lost: there will be 'no such thing as a national health service'. Our national health service will go the way of our national industries.
At one point, Portas asked: "What have we done for the sake of a few quid?" Dr No believes that in a few years time we risk asking the same question about our health service. Unless, that is, we learn the lesson at the heart of Portas' plan for Britain's dying textile industry: the need to recognise the importance of pride, hope and community, of a sense of belonging. It was Mary's Bottom Line. It is the NHS's Bottom Line. One might even say: it is the bottom line for all of us.