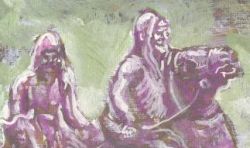 Dr No doesn't really get Hendrix; nor does he get migraines. But if he did get the latter, listening to the former might bring on the latter. Given Dylan's own haunted enigmatic recording of All Along the Watchtower, why strangle genius in a dustbin of dying cats?
Such odd thoughts come to Dr No as news emerges that the Land of the Baskervilles is soon to decide on who should run Children's Services in Devon. There are two front runners: neither is NHS; both are for-profit. One is Branson's Virgin, the other SerCo – the 'Service Company'.
It seems likely the virgin will tramp the servant. The grotesque irony of Virgin, a company defined by hot air condoms, running Children's Services might also give Dr No a migraine, were he to get them. But he doesn't; so he recalled All Along the Watchtower, and added it to his NHS-Scott Island Disc collection:
"There must be some way out of here" said the joker to the thief,
"There's too much confusion, I can't get no relief.
Businessmen, they drink my wine, plowmen dig my earth,
None of them along the line know what any of it is worth."
"No reason to get excited," the thief he kindly spoke,
"There are many here among us who feel that life is but a joke.
But you and I, we've been through that, and this is not our fate,
So let us not talk falsely now, the hour is getting late."
All along the watchtower, princes kept the view
While all the women came and went, barefoot servants, too.
Outside in the distance a wildcat did growl
Two riders were approaching, the wind began to howl.