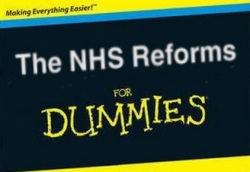 Word is in the air that The Beard is out to spike Max Pemberton. The redoubtable and excellent Max, whose weekly column in the Telegraph has repeatedly shone penetrating light on the sinister implications of the Tory NHS reforms – and here it is good to praise the Telegraph for printing copy critical of Tory policy – has, by way of his latest column, lit a burner under The Beard, and the balloon has gone up. Word further has it that the balloon is to be navigated to a position directly over Pembers, from which position it will descend hard on him, like a ton of bricks, or more precisely, £90,000 or more of legal costs. The threat follows an earlier failed attempt to drop a injunction banning publication on the Telegraph. You can – for now at least – read the article that provoked such corporate ire here, and judge for yourself who is speaking the truth, and who is full of hot air.
This type of heavy handed legalistic activity is entirely to be expected, now that NHS services are to be provided not by the amiable bumbling well-intentioned monolith of a colossal public service, but by cut throat commercial concerns. Branson may have a bigger beard that the other well known condiment entrepreneur, but it now seems that the fluffier the beard, the sharper the tooth of the shark inside.
Branson's ludicrous and bombastic assault will fail, because we will not allow it to succeed. Indeed, the casual observer might observe that not only is the attack the product of over-inflated over-heated corporate imagination, but something perhaps even foolish, more likely than not to backfire, and one supposes that backfiring is to be avoided at all costs in those who travel by hot air balloon.
Be that as it may, Branson's wont be the only corporate balloon to go up; and so, for the benefit of those who have approached the NHS Reforms as an ostrich approaches sand, Dr No presents his inside back cover guide to what is happening from The NHS Reforms for Dummies:

NHS work can now be done by any willing/qualified provider. In practice this means any willing cowboy, given that the already grievously overwhelmed Care Quality Commission can't quite cope – and matters are set to get a whole lot worse as the cowboys ride out to play.

Some of the cowboys will be good at their job; others will not. Some will be genuinely well intentioned and not-for-profit, others will use the nice-little-earner charity wheeze, but by far the largest number will be for-profit commercial concerns. Some of these for-profit concerns will be readily identifiable sharks; others will do their best to hide the sharks behind JLP style wheezes and similar fronts; but in all cases the brain and muscle will be that of the shark.

Like the obligate ram ventilating shark that must forever swim lest it drown, the for-profit concern must forever chase profit; otherwise it too will drown. That is simply how it works, for sharks, on The Apprentice, and in business. If you don't pursue oxygen – if you are a shark – or profit, the oxygen of business – if you are a business – you simply drown.

Some of these for-profit concerns will manage the inevitable conflict between providing good care and making a profit better than others. But in all cases, these for-profit concerns, whatever their guise, will, in contrast to doctors, make the care of their profit their first concern. They cannot but do so, because that is what they exist to do.

The greediest sharks with the sharpest teeth will sooner or later, having mismanaged the conflict and got their priorities confused, start to make mistakes. There have already been too many examples where this has happened: Winterbourne View and Southern Cross spring to mind. There will be many many more yet to come.
Branson's heavy handed attack on Pemberton bears the tooth marks of a greedy shark with sharp teeth. It is not only quite unnecessary; it is reckless and foolish. It seems to Dr No that The Beard has landed himself – dear, oh dear! – in Branson Pickle.