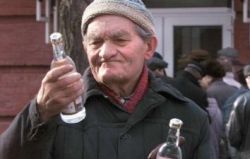 Today's announcement by Scotland's Minister for Emesis, Nicola Stugeron, that the Scottish government intends to set a 50p minimum unit price for alcohol reminds Dr No that a similar bell is set to toll South of the Border. Forty-eight hours after Porgie's boomerang budget, the one that keeps on coming back to tap the Tories where it hurts, Theresa May was pushed on to the floor of the Commons, in a reckless bigger-the-pushed'un-the-better-the-cushion move, to zap hostile media coverage of the budget, by announcing the Westminster government's own Alcohol Strategy. Needless to say, that strategy also contains proposals for minimum unit pricing, and, needless to say, both governments are equally deluded in their expectations that this daft policy will do any good. In fact, Dr No predicts it may even do harm.
The notion that minimum pricing will work is speculative, based as it is solely on economic modelling, itself a souped-up version of Fun with Excel Spreadsheets. Resting on economic principles of supply and demand, the idea is that an increase in price will bring about a fall in demand, that is to say alcohol consumption. So far so good, but then the problems start. The data commonly used, if not so much moonshine, is at the very least not without problems (much of it being unverified self-reported data), added to which there is much cross-linking of data sets, wild assumptions, statistical chicanery and general obfuscation of the kind commonly encountered in the Science That Makes Astrology Look Respectable.
But – and here's the irony – even if we accept economics is the name of the game – its methods suggest that minimum pricing, far from going with a champagne fizz, will instead be flat beer. Dr No will come to show how this might be shortly, but first he makes three more generalised observations that seem to him to bear on the wisdom, or otherwise, of introducing minimum unit pricing for alcohol.
The first two observations are that minimum pricing is both toff-friendly and business-friendly – which might explain why the Tories like the idea. Those who know the price of their Bolly, if not their milk, will be unaffected, because the price of their booze already far exceeds the minimum price threshold. This makes minimum pricing regressive – it hits those most likely to consume lower price booze, the poorest, hardest. And, to add insult to injury, the mark-up on lower price booze will go not to government – where one might forlornly hope it would be used to fund something useful, like the NHS – it will go instead into the coffers of retailers and drinks manufacturers.
Thirdly, recent trends in drinking behaviour (not to mention long term and even longer term trends) show that alcohol consumption, instead of being an increasing problem, is in fact declining. Average weekly consumption, the percentage of people drinking above recommended limits and so called binge-drinking (more than 8/6 units on one occasion for men/women) have all declined over the last five years (see tables 2.1 2.2 and 2.4 from the ONS here, and yes the methodology did change in 2006 but the trends are still there) – making now a neat time, in the Machiavellian way, to set minimum pricing.
Now, to return to economics, or, as Dr No calls this subset of the Science That Makes Astrology Look Respectable, gluganomics. The effect of price on demand (consumption) is wrapped up in the notion of price elasticity. This obfuscation is in fact a simple numerical measure of how changes in price are reflected in changes in consumption. Thus, for example, an elasticity of –0.5 means that for a certain increase in price, consumption will fall by half that amount: a ten percent increase in price will cause a five percent drop (10% x –0.5) in consumption. Products whose consumption is more sensitive to price are said to be price elastic (and the elasticity number is relatively large); those whose consumption is relatively insensitive to price (the elasticity number is small) are said to be price inelastic – right the way down to an elasticity of zero (no change in consumption, what ever the price), a state known as perfect inelasticity.
The problem for minimum pricing advocates is that alcohol consumption is relatively inelastic – in other words, increases in price are matched by relatively small changes in consumption. Quoted overall and subcategory elasticities for alcohol vary greatly, but there is a general consensus that the overall elasticity is around –0.5 (a ten percent increase in price generates a five percent fall in consumption; a fifty percent increase in price will reduce consumption by 25 percent, and so on).
So, not only is the effect of raising prices somewhat trivial (even a fifty percent increase say in a bottle of wine from £4 to £6 would result three bottles bought when previously it would have been four), the consumer also ends up paying more for less: £18 (£6 x 3), compared to £16 (£4 x 4) before the hike. No doubt the well-off will accommodate the extra expense, but for the poor, and those low disposable incomes, that extra money will come out of another budget – like quality food, or the kids' school clothes…which is how minimum pricing will cause harm.
And – if that isn't bad enough – price elasticity for heavier drinkers is even more inelastic – of the order of –0.28: so consumption is even less affected by raising prices. The £4 to £6 wine bottle hike above will, in the heavier drinker, be met by a mere 14% (50% x –0.28) drop in consumption (about half a bottle of the four), yet the total cost will increase from £16 to £21 (£6 x 3.5). No doubt the well-off will accommodate the extra expense, but for the poor, and those low disposable incomes, that extra money will come out of another budget – like quality food, or the kids' school clothes…which is how minimum pricing will cause harm.
Gluganomics, and its fanciful prodigy alcohol minimum unit pricing, will lead to only trivial falls in consumption, and so only trivial reductions in alcohol related harm. But far worse, it will hit poor families hard where it hurts most: in their pockets, and so in their well-being. It is bad medicine, and should be scrapped, in favour of a strategy that not only avoids harm, but actually achieves what it sets out to do: reduce alcohol related harm.