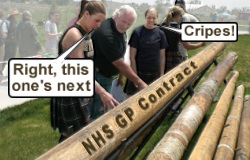 "Rules are for the guidance of wise men and the blind obedience of fools."
–attrib. various1
An editorial in the JRSM by the formidable Dr McCartney, who tosses articles as lesser Jockettes do cabers, helped crystallise some bitter salts that have of late been swilling around the vague stream of consciousness that passes for Dr No's thoughts. The gist of it is that doctors have had enough of being pushed about, demeaned, and generally told what to do, all of which are anathema to the professional mind. For GPs straining to meet Quality and Outcomes Framework targets, the doctor-patient centred consultation has become the government-contract centred consultation. Hospital doctors no longer manage or treat their patients, they protocol them through pathways, all too often watched over by guidelines of not so loving grace. Juniors no longer routinely strive for excellence; instead, they slavishly strive for ticks in boxes. All through medicine, the opportunity for individual, creative, effective and satisfying practise has been flattened under the weight of rules, guidelines, pathways, contracts and targets.
As if all that wasn't weight enough, soon every doctor will be regularly interrogated against the muvva of all medical guidelines, Good Medical Practice, under the steely eye of first their appraisers, and then Stilton's Responsible Officers, in a process called revalidation, but which to many will feel like being fed feet first through the rollers of yet another government mangle. Those who survive without their head exploding from an early build up of visceral pressure will emerge on the other side, flattened and chastened; and of those, more than a few will emerge not only flattened and chastened, but broken too. Those that survive will carry with them the burden of yet more imposed obligations, from their appraisals: PDPs goals, 'must try harder' areas, and the general panoply of appraisal-revalidation activity. While it is true to say that not all of that activity will necessarily be a waste, and some of it might even have been done anyway, the fact that it is imposed, not self generated, will ensure it feels like one more externally imposed controlling burden to be added to all the other externally imposed burdens and controls that already so dominate a doctor's time.
The net effect of all these recent developments – none existed when Dr No was a junior doctor, except perhaps a handful of optional guidelines – has been to knock the 'prof' out of professional, and turn the doctor instead into a sessional technician who executes work flows and patterns devised and decreed by others. If we borrow somewhat loosely from transactional analysis, it is as if the once adult doctor has gradually but inexorably been hemmed in by rules and boundaries, to the extent that they are now in all but name a child, unfit to be trusted with, and incapable of, independent thought or action. They must instead be guided and cajoled, watched and monitored, and the miscreants brought back into line. Even worse, it is not just back to school, it is back to school with no graduation day set.
But most doctors are not children, they are adults, usually intelligent and motivated. Older doctors, like Dr No, remember the days when doctors did practice as autonomous adults, always responsible for their actions, but equally always free to decide and do whatever they felt best. With that autonomy, and responsibility, came a sense of will and purpose that came not from without, but within, and with that came the rich satisfaction of achievements achieved, and yes, too, at times, the remorse of failures endured. Above all it was a rich and satisfying life. Belloc could just as well have been writing about medicine as sailing the sea when he wrote: "There…we play every part of life: control, direction, effort, fate; and there we can test ourselves and know our state". Pity, then, the lot of today's child-doctor: distrusted, deskilled, ruled on some sides by targets, on others by guidelines, with the Damoclean sword of revalidation forever hanging over his or, increasingly, her untrustworthy head.
Small wonder, then, that some doctors are getting restless. Theirs, they cry, not to do and die, but to reason why! Why, they ask, have we lost our professional autonomy, and with it the sense of purpose and satisfaction that used to drive and satisfy our souls? Twitter echoes – if a tweet can echo – to the sound of doctors lamenting the loss of control and direction in their professional lives. Dr McCartney ends her editorial with: "we need to reclaim medical vocation and put it to the use of our patient". The groundswell of discontent is already here, the calls to action emerging.
Dr No looks forward to Dr McCartney tossing a few more cabers into the complacent ring. He may even get round to tossing a few of his own. From a strategic standpoint, the answer, he believes, is already clear. Doctors, both individually and as a profession, must reject external control, and reclaim internal control. All that remains is to decide tactics; and boycotting revalidation is as good a place to start as any.
1. Some say it was Douglas Bader, the WW2 fighter pilot, others say it was Solon, an Ancient Athenian. The wording also varies, and some omit 'blind'; but the message remains clear enough…or does it? Fools do (blindly obey, because they are foolish)? Or fools should (blindly obey, because they don't know any better)? Wiser men than Dr No will have to tell us which it is.