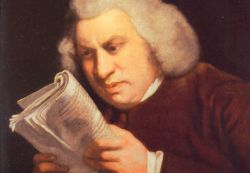 "Those who, in the confidence of superior capacities or attainments, neglect the common maxims of life, should be reminded that nothing will supply the want of prudence, and that negligence and irregularity, long continued, will make knowledge useless, wit ridiculous, and genius contemptible."
–Samuel Johnson: Life of Savage, 1744
Were it not a hideous truth, the comedically absurd case of the dehydrated patient who dialled 999 from his hospital bed to get a drink of water could have been a scene from Cardiac Arrest, the dark but for those in the know searingly accurate 1990s depiction of life and death on the wards at St Elsewhere's. By a coincidence, Line of Duty, a police precinct drama in which the leads like Getting Things Done, not in the usual software way, but with hardware, much of it dark blue or grey and involving combustibles, is now running on BBC2. Both were written by Jed Mercurio, and both are about Mercurio's mojo: the dark and bitter secrets that lie at the heart of two of our biggest institutions: first the NHS, and now the Police. If Cardiac Arrest was Line of Duty with stethoscopes, then Line of Duty is Cardiac Arrest with police badges. Even the protagonists, Andrew Lancel and Martin Compston, look the same.
Dr No digresses. Kane Gorny, the patient who dialled 999, soon died a wretched death, dehydrated and delirious. Last week, deputy coroner Shirley Radcliffe recorded a narrative verdict, but made it clear she believed Gorny's doctors and nurses were to blame, ruling that neglect, incompetence, collective failure and a 'culture of assumption' all contributed to his death. Senior clinical staff at St George's Hospital, Tooting, where the death occurred, laid conspicuously low, but did respond through their Comms Team, a outfit already (in)famous for spooking kidney patients via twitter, apologising for the death, but in the same breath lauded their apparently routine high quality healthcare, as if a thousand uncomplicated phlebotomies could atone for one horrid avoidable death. Sorry guys, it doesn't: one horrid avoidable death is one too many.
One would hope that such terrible events were lightening strikes of great rarity, but it seems they are not. Earlier this year, Dr No saw first hand, again at a teaching hospital, a similar but in the event less pernicious – perhaps because he was on hand to kick ass and take names – culture of neglect, incompetence, failure and assumption. As a blogger, Dr No hears from others who have had similar, and often tragic, experiences. And then there are the now public tragedies: Mid Staffs, the ten tip-of-the-iceberg cases in last year's report by the Health Service Ombudsman, and, in the last month, two more critical reports from Can't Quite Cope. The lightening isn't just striking twice, it is beginning to strike everywhere, as the decaying institutions of the NHS become conductors for bolts of malign mayhem.
A primary malaise behind this mayhem, it seems to Dr No, is that pernicious invention of modern healthcare, 'the team'. Of course not all teams are bad, and some are very good, but nowadays pervasive generality of 'team culture', a pervasive generality we might note much encouraged by Stilton and his goons at the General Medical Council, and no doubt by the corresponding big cheeses at the Nursing and Midwifery Council, is the cultural mist that can mask a multitude of sins. The team culture encourages collective responsibility; but when there is collective responsibility, there can be no individual responsibility. The patient is no longer 'my patient' – a phrase Dr No grew up with, but which is rarely heard these days. The patient instead belongs to the team, and the team takes responsibility; but all too often that team is a misty abstraction, with the inevitable result that no one takes responsibility. As the collective mind focuses on passing the buck, so the patient falls through the cracks in the floor.
There has been some uncertainty about the moral thrust of Johnson's 'want of prudence', with which he closes his Life of Savage. The common assertion is that his meaning was that no amount of 'talent' can compensate for moral torpor. Dr No inclines to agree, and furthermore considers it applies to modern healthcare: no amount of medical or nursing 'talent' can compensate for the moral torpor of team culture. It is the 'neglect of the common maxims of life' – that is, a reluctance to take personal responsibility for patients, despite 'confidence of superior capacities or attainments' – that can, and increasingly does, give rise to 'want of prudence', and so to avoidable lethal harm. As it happens, in their way, that is what much of Cardiac Arrest and Line of Duty are about – so perhaps Dr No wasn't digressing after all.