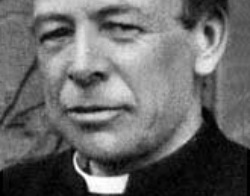 Without so much as a hint of irony, a character in one of Susan Howatch's novels gives orders that under no circumstances should that ghastly passage by Scott Holland be read at her funeral. The ghastly passage is Death Is Nothing At All:
"Death is nothing at all. It does not count. I have only slipped away into the next room. Nothing has happened. Everything remains exactly as it was. I am I, and you are you, and the old life that we lived so fondly together is untouched, unchanged. Whatever we were to each other, that we are still. Call me by the old familiar name. Speak of me in the easy way which you always used. Put no difference into your tone. Wear no forced air of solemnity or sorrow. Laugh as we always laughed at the little jokes that we enjoyed together. Play, smile, think of me, pray for me. Let my name be ever the household word that it always was. Let it be spoken without an effort, without the ghost of a shadow upon it. Life means all that it ever meant. It is the same as it ever was."
Whatever the merits of the passage – Dr No quite likes it, even if some see it as sentimental vaporising, which is unfair, because the passage is only a small part of a complex sermon on the paradox of death: it is both everything and nothing – the fact is that for many, the real ghastly passage is that of death itself. Dr No's mother feared a ghastly passage, which for her meant dying in hospital, tubed up and pumped out. Dr No is relieved to be able to report that she died at home. But it was not entirely unghastly. The modern rule-bound IT-wrecked NHS, and a plod endowed with but two neurones, one in each foot and neither connected, saw to that.
In life, Dr No's mother was huge and vital character that filled and overflowed any space she was in. Towards the end of last year, and more so in the last few weeks, the machinery that sustained that vast character started to fail. Her lungs became bound by the ties of fibrosis, and the right side of her heart became strained. When asked about prognosis, Dr No first took a quantum line, and opined that prognosis was the original piece of string, whose length is not known until it is cut. Then, as death came nearer, and the reaper could be seen flitting in the shadows, he became more Newtonian in his predictions: she could have died last night, or tonight, or in the days and nights ahead. Death, even if nothing at all, was as imminent, as it is inevitable.
The NHS responded with kit, lots of it. Contraptions abounded. Some had wheels, others had levers, and the centrepiece, a hospital bed with a mattress that rippled, had everything, even a control pad, which Dr No feared his mother, never technical at the best of times, might use to fold up the bed completely, while she was inside it. Morphine was made available, to be given as required – readers of past posts will know Dr No is an advocate of not killing, nor striving officiously to keep alive – even if not much was taken, because the piece of string, when cut by nature, was found to be short. Pathways were planned, forms filled in, care sort of coordinated some of the time, and boxes, ever so many boxes, ticked.
Among the forms was one that mattered: the DNR – do not resuscitate – order. Dr No's mother was dying, and in the event of her collapse, attempts to resuscitate her would be both futile and burdensome, an officious yet pointless striving to keep alive. The original purple order was placed near her, at the front of her notes, and the order propagated through the system, to the out of hours and emergency services, to forestall unnecessary heroics.
Or so we thought: in fact, it wasn't. When Dr No's mother collapsed in the early hours one morning, her live-in carer (Dr No was at home, taking a rest after four days of chaos), previously frustrated by the dallying ways of 111, understandably dialled 999. Red lights went on, and blue lights started flashing. Paramedics were dispatched, police called to the scene, and the 999 operator gave immediate orders to start cardio-pulmonary resuscitation. Instead of being allowed, as intended, to die peacefully, Dr No's mother was subject to the panoply of a response befitting the unexpected collapse of a fit twenty year old, all because of an IT failure. The DNR order, intended to forestall unnecessary heroics, had got lost; and the live-in carer, lest you be in any doubt about the gravity of the situation, was ordered to assault – assault, because that is technically what it was, if Dr No's mother was still alive – Dr No's dying mother, an act as unkind as unfair to both carer and patient.
The paramedics, faced with a flat ECG and the original DNR order, did the right thing and confirmed death. Plod was less bright. Pronouncing it unexpected, despite all evidence to the contrary, he turned the death into a Coroner's case and, as he later put it to Dr No, seized the evidence, in case of foul play. With plods like that, Dr No wonders, who needs Clouseau? The body was taken to the mortuary, but never mind that she ended up in hospital after death, for what mattered most to her was achieved: she died at home.
It took a few days to extract Dr No's mother from the Coroner's system, because plod, after seizing the notes, then managed to lose them, but extracted she was, and without a post-mortem. Earlier this week, her body was cremated. Was her death nothing at all? Of course: to Dr No, she is still that huge spirit that fills and overflows any space she is in. And yet it is also everything, for she is gone, finally and forever. It is both everything and nothing, both brutally finite and wonderfully infinite.