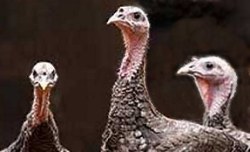 For Immediate Release:
Council to Survey Turkeys about Christmas
GTC Press Office, London, UK
Thousands of turkeys are to be invited to take part in a survey of their views about Christmas, the General Turkey Council has announced.
The survey is part of a new piece of research examining whether turkeys think the GTC is operating in a fair and objective way and whether turkeys from different backgrounds have different views of the Council's processes.
The results will help inform the GTC's work to ensure it continues to apply its standards consistently, and makes decisions that are fair to all turkeys regardless of their background.
Announcing the survey, a GTC spokesperson said, "We know that turkeys can find Christmas stressful. That's why we are going to survey 7,000 turkeys across all backgrounds to find out whether they think Christmas is fair."
"Our Equality and Diversity Team have found that some turkeys from different backgrounds are more likely to perceive Christmas as unfair. As an organisation, we are committed to ensuring all turkeys are treated openly and fairly, whatever their background," the spokesperson added.
The work builds on last year's 'Being Fair' conference where the GTC brought together abattoir leaders, supermarket bosses and turkeys to explore ways in which Christmas could be made fairer to turkeys.
ends
Notes to Editors:
The General Turkey Council is the independent regulator of turkeys in the UK.
Our job is to protect and promote Christmas, while ensuring that all turkeys are treated openly and with fairness.
We do this by regulating and managing all aspects of the turkey final pathway experience, from farm gate to oven door, under powers given to us by Parliament in the 1983 Turkey Act.
To find our more please visit our website www.gtc-uk.org.