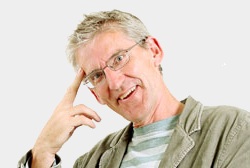 As part of a welcome recent trend, the Today programme this morning was presented by Monty and Mish, the twin set who occasionally manage to drop pearls. Devoid of the deadweight of burnt-out testosterone that burdens the older male presenters, Monty and Mish manage at times almost to sing, but since 'tis the season for mistletoe in the house and so guest editors on Today, the links were peppered with references to "the musician P J Harvey" and "P J Harvey the musician", who, it was said somewhat defensively, was responsible as guest editor for doing 'something unusual' to the programme. As doing anything let alone something unusual to the Today programme is known to provoke a mailbag the size of a mammoth, Monty and Mish were right to sound anxious, but the bigger question was could anyone really do anything unusual to the Today programme? The answer, as it turned out, was an unexpected yes.
Shortly after a quarter past seven, it was announced that one Sam Clifford Stiff (or it might have been Clive Stafford Smith) had been asked by P J Harvey (the musician) to find out whether NHS critics could come up with a better alternative to the troubled health service. As it emerged that Stafford Smith was a lawyer with an American background, one feared the usual drill-another-hole-in-the-NHS routine. But instead, remarkably, as the piece ran on, it became clear that not only was Stafford Smith sympathetic to the NHS, he was positively keen to promote it – one of his interviewees, the academic Coleman Pratt, was allowed to say "The World Health Organisation identified the British system as the most efficient healthcare model on the planet" – and extol its virtues, notably its public funding that provides free care at the point of need, without the intrusion of a complex machinery of money men. The NHS, Stafford Smith concluded, is "a true gem, possibly even the jewel in the crown of Great Britain – and we should respect it as such".
Never mind his geography: such exultant rhetoric is not to be expected but very welcome from half American lawyers. But perhaps the best bit came earlier during an interview with Dr Dan Poulter, the health minister. Having encouraged Dr Dan to puff out his chest with NHS pride, and then allowed him to enlarge on the need to modernise, the lawyer moved in for the kill. Alluding to an earlier 2005 Tory assertion that the NHS was 'a fundamentally broken machine', he asked in dulcet but indignant tones: 'You're saying the best health care system in the world you can identify is fundamentally broken?' From that point on, the loudest noise in the interview room was that of Dr Dan deflating, like an inflatable dinghy stabbed with a knife.