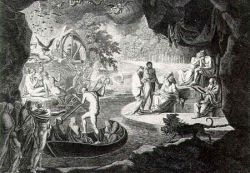 A journey of a thousand miles begins from the spot under one's feet.
–Lao Tzu, Tao Te Ching
Two of the lollipop men NHS grunts most love to hate put their heads above the parapet recently. The anti-GM crop man who is himself part of a GM crop said doctors had lost the human touch, and must in future care more. The minister whose brains if extracted and compacted would make a passable mothball fumed about the normalisation of cruelty in the NHS. The familiar vistas of patients managed like battery hens, caged in their beds and kept in the dark, were rolled out across the media. A picture was conjured of the NHS as a giant sausage machine, taking live patients in at one end, and extruding a grotesque string of body-bags at the other. In between, moths of death flit in and out of the shadows, undaunted by ministerial mothballs. If the NHS, by these accounts, can be summed up in one word, it is Hades, realm of the eponymous Lord of the Underworld, a dark realm which all may enter, but none may leave.